When selecting and purchasing prepainted galvalume sheet, users shall firstly stress on the quality which is the key factor to effectively ensure smooth application of prepainted galvalume sheet. Here CAMELSTEEL will briefly introduce matters needing attention of color coated steel coil.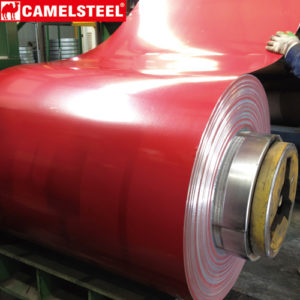 1.Reasonable selection can not only meet use requirements but also lower cost to the greatest extent. Improper selection will lead to material performance exceeding use requirement, causing unnecessary waste or material performance failing to meet use requirement, causing degradation or unavailable use. Therefore, demanders shall pay high attention to the importance of reasonable selection and shall consult experts if necessary.
2.The selection of color coated steel coil mainly involves mechanical property, substrate type, cladding layer weight, frontal coating property and reverse coating property. The usage, corrosivity of use environment, service life, durability, processing method and deformation extent, etc also are important factors for selection.
CAMELSTEEL consistently carry out the policy of "Customer first, employees of the second, third shareholders" and the tenet of "Treat people with sincerity, start business with trustiness". We insist brand building of main line, market demand oriented, not afraid to innovate, keep providing the first-class service and quality products for customers indeed.
All contents of this website, including text, pictures and other copyright are owned by CAMELSTEEL. Our Company reserves the right to investigate the legal liability of the users who unauthorized use without permission.