Color-coated steel sheet is also called color plate or color coated sheet. Color coated steel sheet is made of cold-roll steel sheets and galvanized steel sheet. Surface preparation and roller coating method are two key approaches of making color coated steel sheets. Surface preparation includes degrease, wash and chemical conversion. Roller coating method means workers galvanize the steel continuously. And then, after baking and cooling , the steel turns to color coated sheet. Color coated sheet has many advantages, such as light, pleasing to the eye, well corrosion resistance performance and well procession. Frankly, it provides a new type of raw material for many industries. It contains construction industry, shipbuilding industry, vehicle industry, furniture industry and electric industry and so on. Substitution steel for wood, high efficiency, energy-saving and depollution are the fine effects of color coated sheet.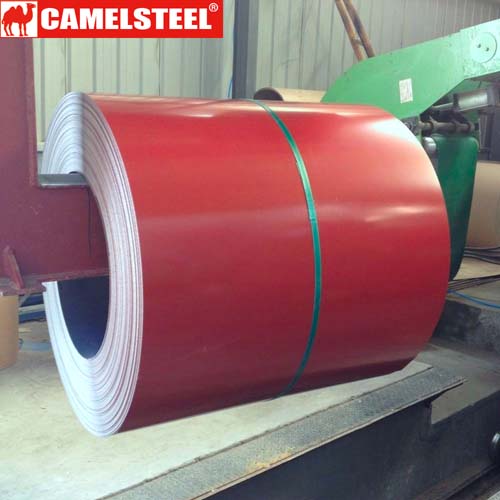 The conceptual framework of color coated sheet
The cold rolled band and galvanized steel (cold galvanizing steel and hot galvanizing steel) are the baseplate material in the continuous unit. It is processed with the surface preparation and roller coating method, which means to galvanize the steel with one or more liquid coating. After baking and chilling, it turns to the galvanized sheet. Generally, it galvanizes the back and surface. Generally, in china, the back is applied a coat of paint and the surface is applied two coats of paint. But internationally, people need to galvanize both the back and the surface two coats of paint. Due to the different colors, it is called color coated steel.
CAMELSTEEL consistently carry out the policy of "Customer first, employees of the second, third shareholders" and the tenet of "Treat people with sincerity, start business with trustiness". We insist brand building of main line, market demand oriented, not afraid to innovate, keep providing the first-class service and quality products for customers indeed.