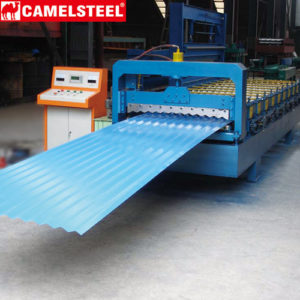 CAMELSTEEL will analyze the six aspects of PPGI corrugated roofing sheet fireproof with you.
1. To use the rock wool with the good fireproof performance as the core materials is the fundamental means.
2. During the build process, the core materials should be away the electric welding and gas welding, which have the open fire.
3. During the use process, the pyrogen and combustion source should not near the steel sheet, and try to keep some distance.
4. The electrical wiring and cables should not be through from the core materials. If it has to go through the core materials, people should protect it with casing. And the socket and switch box should be used with metal galvanized box with unfold installation.
5. The fire-fighting equipment should be installed outside. If the condition allows, people need to install the fire-alarm which is convenient for people to get away.
6. The room should have 6 m safe distance. The PPGI corrugated steel roofing sheet with core filling material is easy to flame, but will not self-ignite.
Please use the strict, scientific and available management to stop the tinder from the PPGI corrugated steel roofing sheet with core filling material. And it is the best way to prevent fire hazard.