PPGI corrugated roofing materials have many advantages. Such as light weight, high strength and convenient construction. It is the products admired by the modern industries and civil buildings. After the roof installation, people should do well with the waterproof process work. Or it will occur the leaking phenomenon, which will influence the normal work and lower the work efficiency.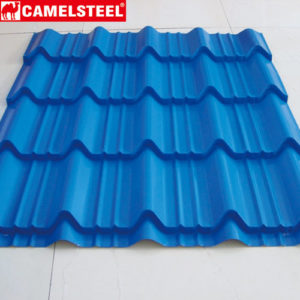 Now, CAMELSTEEL will introduce the PPGI corrugated roofing materials waterproof port process method.
After the PPGI corrugated roofing materials boarding's installation.
1. Use the pry tools to upfold the rib on the ridge of steel sheet house, which could keep the flow water below flashing plank from leaking into the buildings.
2. Use the folding tools to bend the armor plate down side's strip to keep the rainwater flow from the armor plate terminal side. And it will not circumfluence the chassis with because of wind action.
All contents of this website, including text, pictures and other copyright are owned by CAMELSTEEL. Our Company reserves the right to investigate the legal liability of the users who unauthorized use without permission.
CAMELSTEEL consistently carry out the policy of "Customer first, employees of the second, third shareholders" and the tenet of "Treat people with sincerity, start business with trustiness". We insist brand building of main line, market demand oriented, not afraid to innovate, keep providing the first-class service and quality products for customers indeed.