描述
Colour Steel Roofing Specification
Grade:CGCC\TDC51D+Z
Thickness:0.12-0.6mm (±0.02mm)
Width:650-1025mm
Length:As your requirement
Zinc/Aluzinc coating:Zn 40g/sm-275g/sm
Sheet weight:2-3tons/As your requirement
Hardness:CQ/FH/As your requirement (G300-G550)
Painting prime:5μm
Painting top coating : 7–25μm
Back coating:7 –15μm
Color:As RAL or your requirement
Surface Treatment:With plastic film , Chromated, Wrinkle, Matt, Decorate, Sand surface, Highlight.
service life:10-15 years
Application:warehouse,workshop ,building
Special Use:High-strength Steel Plate
Colour Steel Roofing Packaging & Delivery
Packaging Details
1.Each bare coil to be securely tied with two bands through the eye of coil (or not) and one circumferential.
2.the contact points of these bands on the coil edge to be protect with edge protectors.
3.Coil then to be properly wrapped with water proof /resistant paper, it then to be properly and completely metal wrapped.
4.Wooden and iron pallet can be used or as your requirements
Delivery Time : 7-25 days after payment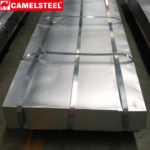 Best CAMELSTEEL
CAMELSTEEL is well-known at home and abroad. Our production capacity is 5000 tons/week.
The steel coils are sold all over the world,including most parts of Asia,Europe,South Africa,North and south America
we have ability to produce:
1.
Galvanized steel coil
/sheet/strip (Zinc steel or GI)
2.Galvalume steel coil/plate/strip (Alu-zinc steel or GL)
3.Prepainted steel coil/sheet/strip(color coated steel or PPGI)
4.Pre paint stell coil/plate/strip(colour coated steel or PPGL)
Not only good products, low prices, safe package, but also after-sale service is first-class.
we have businessed galvanized coil items for more than 16 years ,our factory have 3 product line .we can product 5000 metric tons per week ,pls note the price is not the final price .our mainly produce Galvanized steel coil , Pre-painted galvanized steel coil , Galvalume steel coil , Pre-painted galvalume steel coil .

   Our brand CAMELSTEEL products are exported to more than 30 countries such as Indonesia,Thailand,Malaysia Turkmenistan,UZ,Paraguay Uganda,Senegal,etc.
Q1: Do you have the right to export?
A: Yes.
Q2: Minimum Order Quantity?
A: MOQ is 25 tons, your quantity is ok, sample is free.